We look forward to meeting you and introducing you to the rest of our team.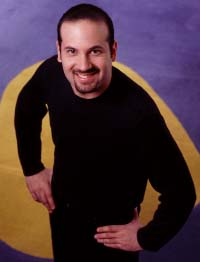 Jack Aaronson
CEO / Founder

Jack Aaronson is the CEO of The Aaronson Group. The Aaronson Group focuses on customer conversion, retention and loyalty for both single and multi-channel companies. As a corporate lecturer, Jack travels around teaching best practices in personalization, loyalty programs and multi-channel marketing. Jack writes the ROI Marketing column for ClickZ.com, as well as his own newsletter. He has appeared as a subject-matter expert on CBS Sunday Morning News (for a segment on loyalty programs), and has been interviewed by every major trade publication as well as the New York Times and Chicago Tribune.
The Aaronson Group's clients include a who's-who of online brands and multi-channel companies. Clients include H&M, Yves Saint Laurent, Sergio Rossi, Gucci Group, Reebok, SkyMall, Fingerhut, ShopNBC, Publisher's Clearing House, WeightWatchers.com, Lincoln Financial and Dell Computers.
Jack has been working in the Personalization and One-to-One Marketing field since 1996. Prior to starting his own company, Mr. Aaronson created Barnes&Noble.com's personalization practice in 1999. As Director of Personalization, he was responsible for the vision and strategy for personalization on the site, for designing all personalized features, and for overseeing their project management. At Barnes&Noble.com, Mr. Aaronson created over 20 personalization projects, ranging from Editor Pages and Special Interest Communities, to the highly-successful Wishlist, which held over 17 million dollars worth of products in less than six months, and a new breed of recommendation engine, which more than tripled traffic to recommended products.
Jack sits on the advisory boards of several companies including ICE, Coremetrics, and Freehand Systems. He also sits on the Content Advisory Committee of shop.org.
Jack graduated from Amherst College cum laude, with a dual major of Computer Science and Musical Theater. He was awarded the Howard Hughes Science Fellowship as well as the Sundquist Prize for musical composition, and satisfied his thesis in Musical Theater by writing an original opera based on the life of Edgar Allan Poe.
Looking for Speaker?
CEO Jack Aaronson is a sought-after speaker, and has keynoted major marketing conferences on four continents. Contact us today to book him directly. You can also book him through National Speakers Bureau, Washington Speakers Bureau or Speak Inc.